From GuelphToday.com – original article here.
---
Special Olympics meet a magic moment
15th annual event a time to shine for athletes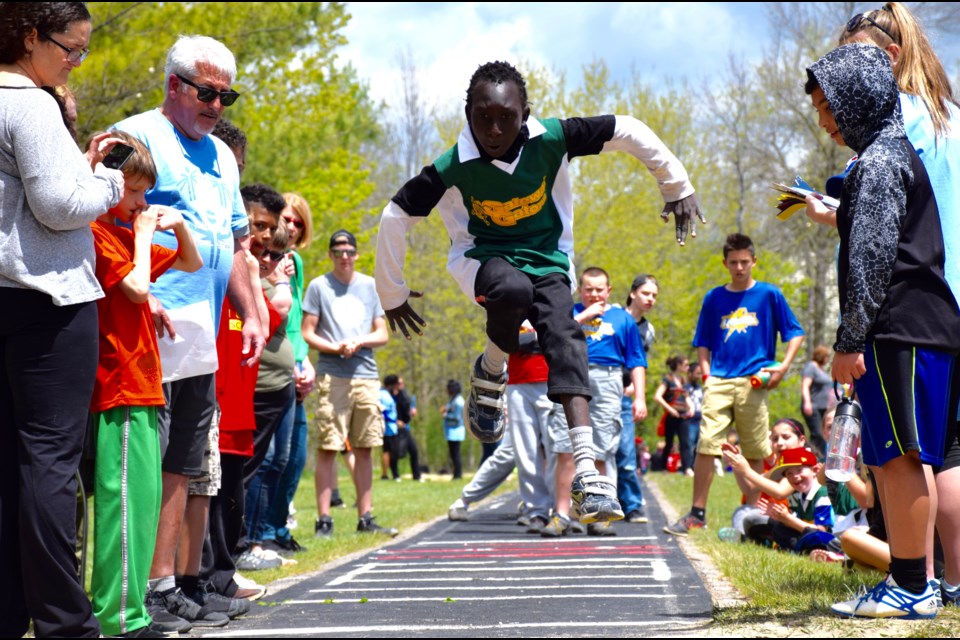 About 1,000 people congregated on the outdoor track and field facilities of St. James Catholic High School Wednesday for the 15th annual Special Olympics Track and Field Meet.
Competitors from all Upper Grand District School Board and Wellington Catholic District School Board high schools took part.
A kind of canopy tent village sprung up in a grassy area, with each team having its own little shelter from the sun. There was evidence of massive pizza consumption at the event. An atmosphere of friendly competition, jubilation and camaraderie pervaded the scene.
In the morning, a number of local dignitaries took part in opening ceremonies, which included a parade with all the athletes.
Andrea Rauser, an educational assistant at John F. Ross Collegiate Vocational Institute, said the event was well-organized, and a "magic" moment for the athletes. One of the students she assists, Shahrukh, placed 2nd in a 25-meter wheelchair race. The boy called the event "awesome," and said everything about it was special.
Throughout the track and field grounds various events were held until about 2 p.m. Wednesday. In one corner was long jump, and in another athletes competed in shot-put. There were a number of foot races in a host of distances.
Maverick Rightson, 16, a student at College Heights Secondary School, was winded after his triumph in the 400-meter race. He made a final lunge at the finish line to win, but the exertion took all the energy he had.
"I feel really good about the race," he said between gasps. His mother, Michelle, was impressed with the event, and with her son's accomplishment.
Jonah Lunod with Community Living Guelph Wellington was the volunteer coordinator for the event. He thanked the 150 volunteers for making it a successful day of competition and fun.
"It was perfect," he said. "Everything ran very smoothly. The athletes had a great time, and I'm very happy with how it turned out."
The meet is a collaboration between Upper Grand, Wellington Catholic, Special Olympics Ontario, and Community Living Guelph Wellington.
"For the athletes, they get a sense of camaraderie and friendly competition," said Lunod. "And it's great for their self-esteem. This event is all about them, and they feel good about themselves."
About 25 students from St. James Catholic School helped run the event.
"When you see all the kids together like this, all the smiles on the faces, and all the hands that come together to make it happen, it is a really uplifting experience," said Michael Burt, a teacher at St. Joseph-Fergus. "It's nice to see these kids get their moment to shine, and to see everyone clapping and cheering just for them."
Competition begins next Thursday, May 26 in the Special Olympics Ontario Provincial Spring Games, being held in Guelph. It runs for three days. Opening ceremonies are next Thursday evening, 7:30 p.m. at Sleeman Centre.