Love for Animals– a Passport Story
Written by Penny, with support from his Direct Support Professional Ashlyn Northfield
Pictures by Ashlyn Northfield
---
Penny is a resident of Mount Forest  who receives passport funding. Penny loves animals and due to COVID-19, has not been able to connect with that aspect of her life.
While out at Mapleton's Organics with her Passport DSP, Penny got to visit with a donkey, a pig, a horse, cows, chickens, dogs, and cats! Penny had a blast and said that she would like to work with animals.
Penny is exploring the possibility of paid work like dog walking where she can make her own schedule and work with dogs best suited for her. Penny would also like to volunteer her time at the SPCA once it re-opens again.
Passport funding is providing Penny an opportunity to do meaningful things within her community and explore her interests and passions.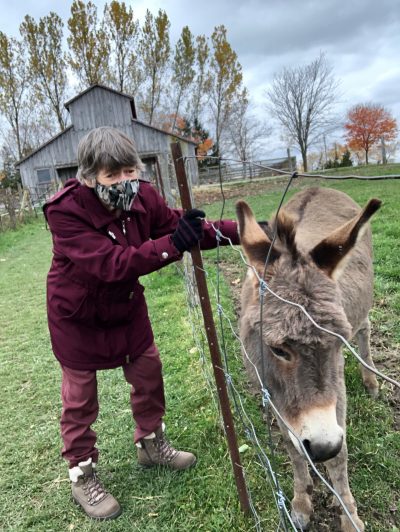 "I like my passport worker, we have many laughs and giggles. I really need that during this difficult time (sickness) and I appreciate the opportunity to visit/work with animals. I am hoping to work with animals within my community and passports will be able to help me with that" – Penny