Game Changer - a Passport Story
Written by Ryan, with support from his Direct Support Professional Ashlyn Northfield
Pictures by Ashlyn Northfield
---
Ryan is a resident of North Wellington who receives passport funding and is supported through CLGW. Ryan loves getting out into his community but with the COVID-19 Pandemic, he has not had many opportunities to do so and like many others, this has taken a toll on his mental well-being.  Ryan felt that he had nothing to look forward to like he use to.
Back in the Spring, the Passport guidelines changed to allow the temporary purchase of electronics, art and craft supplies, etc. This was meant to help people stay home well during the Pandemic.  One of those temporary changes also allowed the purchase of video game systems and games! Ryan loves to game so he asked if he could use his passport funding to purchase some.
Although a video game may seem small, it made a BIG impact on Ryan's mental well-being. He finally had something to look forward to everyday and something to keep him occupied while self-isolating at home. Ryan would like to look for a job once he is safely able to do so, and Passports can help with that too! He is looking forward to getting back into his community.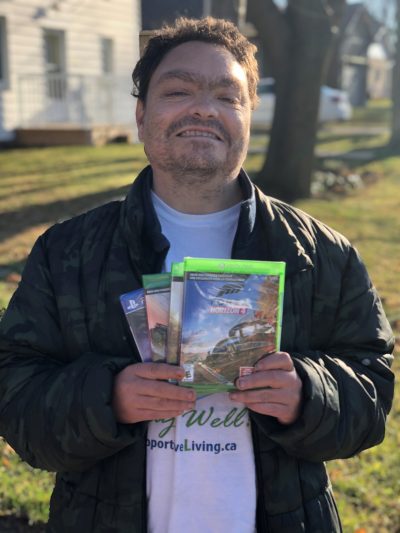 "I would really like to check out working at Domino's. I think it would be a great fit and I could walk there!" – Ryan